TesiraLUX mounting and cooling
Last updated
The TesiraLUX IDH-1 Encoder and OH-1 Decoder are both a standard ½ RU form factor chassis, which allows for mounting in a variety of areas. When mounting these products, heat generation and cooling should be taken into consideration. The front fan sucks in cool air and forces heated air out of the rear and side exhaust vents. Ensure the front fan, rear and side vents are not obstructed when mounting TesiraLUX.
The front panel of TesiraLUX provides you with useful status and troubleshooting information. When possible, it is recommended to mount TesiraLUX in a place where you can touch the buttons and read the display panel to make setup and diagnostics easier.
Mounting methods
Behind display
In installations where TesiraLUX needs to be mounted behind a display, ensure the side exhaust vents are upward facing and are unobstructed for maximum cooling. TesiraLUX is 1.75" high, and there are a number of mounts whose install depth will not be impacted by TesiraLUX. Having the OH-1 behind the display in a semi-enclosed environment may impede the airflow necessary for cooling though, so steps should be taken to ensure adequate air flow to prevent overheating.Equipment enclosures need to have adequate air flow to prevent overheating inside of the enclosure.
Under table
A UTMK-1 under table bracket. Note that the bracket has one correct orientation for mounting of the TesiraLUX devices. This is important to ensure proper cooling of the device via the side vents. This bracket can also be wall-mounted to allow for placement of the TesiraLUX device behind a display. When mounting, take proper steps to allow for airflow pathways to the sides and rear of the device.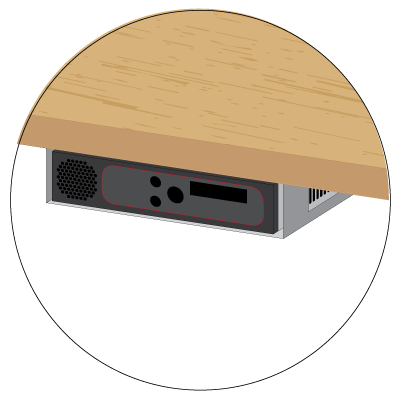 Rack mounting
TesiraLUX products can be rack-mounted either on their own, or side-by-side with another TesiraLUX device.
A RMK-1 1RU rack space mount for a single TesiraLUX device. This unit will allow for half rack placement of the device within an equipment rack with right or left side orientation.
A RMK-2 1RU mount for dual side-by-side TesiraLUX devices. Due to the IDH-1 Encoder and OH-1 Decoder devices sharing the same form factor, this rack kit allows for devices to be mounted together in any combination allowing for rack mounting flexibility.