Camera Controller Software
Last updated
Biamp has provided a dedicated control software application to help support the features and maintenance of the Parlé soundbar and Vidi 250 products. This application is available for free download supporting both PC and Mac platforms. This is not required for basic camera operation, but will be needed to achieve the full suite of features available within these products.
Software can be downloaded from the main biamp.com website, or directly from the link below
Once downloaded, the software will detect a connected camera, and allow for video preview window along with available controls. A shortcut to the application will be installed on the desktop once loaded.
Camera control
Once the camera control application is opened, a control window with a camera preview will launch. The camera controller software has a page for video and a settings page. Preset controls are available on both pages.
Save or recall up to 3 presets
Video Page

Autoframe function on/off
ePTZ zoom and camera manual panning

Settings page

Backlight compensation
Image mirror on/off
Image flip for under display mounting
Refresh rate 50Hz/60Hz
Microphone on/off (Vidi 250 only)
Firmware upgrade
UC Profile selection
Max Zoom setting
Video Page Settings Page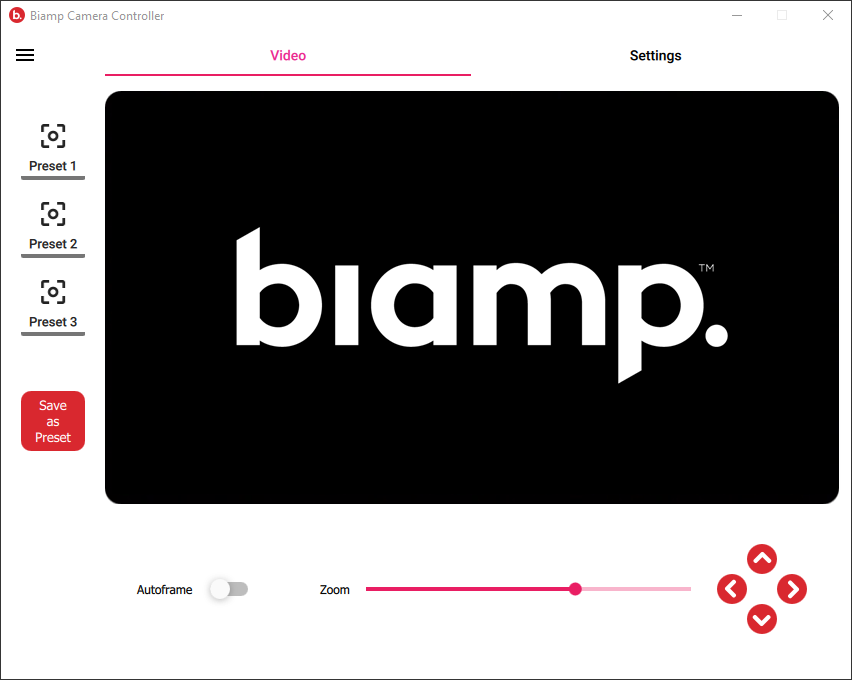 Presets
Up to 3 camera presets are available to store via the controller software. To allow for preset store and recall to be available, the autoframe mode must be set to the off position. When autoframe is enabled, you will see that the preset buttons, and save as preset selections are grayed out and disabled. Autoframe mode also disables the zoom and pan controls in controller software while leaving the flip option available.
To store a preset, use the zoom and pan controls to position the camera view to the desired location. Then by selecting the "save as preset" option you will be given the choice via pop up window to update preset. Select the desired preset store location and select save to store. Repeat the process to save up to 3 custom camera views.
To recall the saved presets, select from the left side preset locations to instantly recall your saved camera view. Presets can also include camera flip orientation for setups that sometimes require the camera to be inverted, to allow for easy recall of views based on camera positioning.
Firmware updates
In addition to real time camera control functionality, the control software is also used for firmware updates. This uses a .pfa firmware update file ABC 2500, and VBC 2500 hardware.
Note: Although the ABC 2500 is not a camera based device, it also will use the camera control application for its firmware update process.
The VBC and ABC firmware will be available to download from Biamp.com and from this link on Cornerstone. Once downloaded to local machine, select upgrade firmware from the settings page. A pop up will show the current device firmware and allow you to navigate to the download location.
Once a .pfa file has been added, select "start upgrade" to begin the process.
Parle conferencing bars use the .pfa file extension.
UVC Control
The VBC 2500 and Vidi 250 both support the UVC protocol standard. This protocol used by many UC systems for 3rd party camera control via USB connection. If a UC client supports UVC control, it can be used with our camera products.
Zoom Rooms support and utilize this today
Teams Rooms have this feature road mapped