Vidi 100 overview
Last updated
The Vidi 100 satellite camera is designed for use with huddle or small conferencing room systems. Onboard optics include 1/2.5" CMOS progressive scan image sensor with a 4K resolution and 120° field of view. The Vidi 100 also includes a built in microphone array with two omnidirectional elements working with onboard noise reduction signal processing to ensure clear audio reproduction. Camera is powered via onboard USB-B connector.
Camera features
The Vidi 100 is designed around a 8MP progressive scan image sensor for Ultra HD 4K, 2160p @ 30fps resolution with 120° horizontal field of view. It is great fit for personal use, huddle spaces, or small conference room applications. Below is a list of the features included in the Vidi 100 remote camera.
4K ultra high definition, 4K@30fps/25fps image output
Color/Compression: YUY2/MJPEG/NV12/H.264
120° horizontal field of view
2D & 3D digital noise reduction algorithm
Auto white balance
Auto-focus
Backlight compensation
Backwards compatible with 1080p, 720p and other resolutions.
The Vidi 100 camera is not supported by the Biamp Camera Control application as there are no user adjustable image or audio parameters available to change. The only parameters that may be modified are those presented by the PC or MAC operating system. Advanced features such as auto framing, auto tracking of talkers, or camera presets are not supported on the Vidi 100. If these features are desired for the application, the Vidi 250 is the recommended camera to support these requirements.
Microphones and processing
The Vidi 100 features a dual omni-directional microphone array with an onboard noise-canceling algorithm to ensure that everyone in the room is heard clearly. This array is designed to work equally well with camera mounted at the display or direct on a wall surface. The Vidi 100 is designed to work with UC platforms that provide acoustic echo cancellation(AEC) for connected audio devices. There is no additional AEC processing hosted on the Vidi 100 hardware.
Microphone type: Omni-directional (x2)
Onboard DSP: Noise suppressing algorithm
Acoustic Echo Cancellation: None
Visual mute indicator LED: None
Connectivity and mounting
The Vidi 100 has an rear mounted USB-B (3.0) connection for powering and data transfer to host device. One USB-B 3.0 to USB-A, 1m length, 5GBit/Sec Rated is included. For optimal performance, connect the camera to a USB 3.0 port. Bandwidth (image quality) and power requirements are not sufficient on a USB 2.0 port.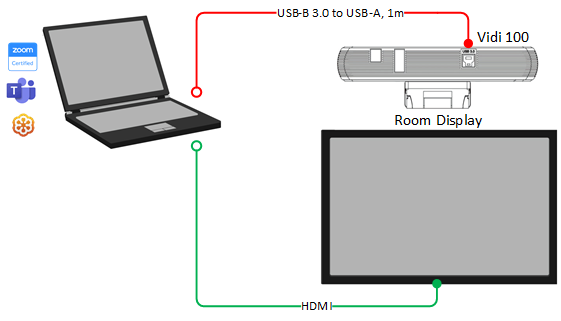 The Vidi 100 may be used with USB extenders use the USB 3.0 standard. Any extender used must support isochronous data transfer in order to successfully carry audio over USB. The Vidi 100 is USB-powered a maximum 3W power from host device.
Note: If any issues with powering the camera or image quality are experience it is recommended to always remove and test without the extender device before contacting support.
Mounting/Installation
Dimensional drawing of the Vidi 100 is included below for reference. Dimension are shown in millimeters. A full set of CAD files are available for download from link in the section below.
The Vidi 100 has an integrated mount that allows for flexibility of install above a monitor or on a flat surface using the integrated clip. There is also a threaded mounting clip, 1/4" - 20 UNC thread for installation using 3rd party devices and wall brackets.
Further reading