Parlé Processing Block - using custom presets
Last updated
This article explains how to create presets when using the Parlé Processing Block.
Standard room acoustics settings
Presets are created in the normal way from the Preset Manager and the Parlé Processing Block is added to the preset by left-clicking on the block and dragging it into the preset. However, when using the Parlé Processing Block, you will see that three individual blocks are actually added to the preset block list. The block is actually a container for multiple different processing blocks and some must be included separately in the preset manager. The following items appear in the list:
Mute - Mutes the output of the block
AEC x Channel - Controls AEC properties for the channel
Parlé TCM-X Processing - Controls the individual Room Acoustics setting recalled with the preset
When AEC is not included internally to the Parlé Processing Block, the AEC processing block is not included in the preset. If control of this block is necessary, it must be added separately. See the Parlé Processing Block article for more information on this feature and its use.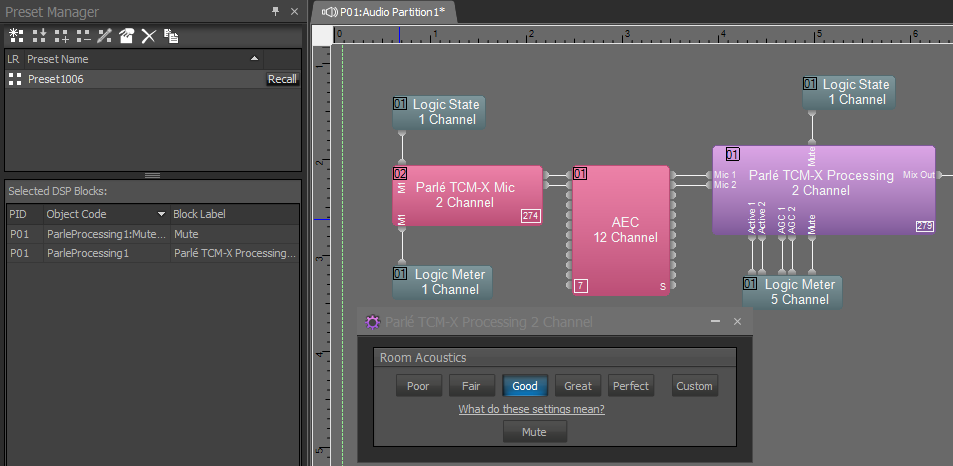 Custom room acoustics settings
If you attempt to add a Parlé Processing Block to a preset when the block is set to a "Custom" Room Acoustics setting, you will receive the following warning:
Must Use Sub-Blocks When Setting Custom Room Acoustic Preset
When using the "Custom" setting, you must add the sub-blocks contained within the Parlé Processing Block individually. To do this, first select "Custom" and then click the "+" icon to expand the block.
Next, left-click on the individual blocks and drag them into the preset. You can select multiple blocks by holding the <SHIFT> key while clicking and then drag the selected group into the preset.
Refer to the Tesira Help file for the Preset Manager for more information on creating, saving, and modifying presets.