TesiraCONNECT TC-5
Last updated
The TesiraCONNECT TC-5 is a 5-port AVB-capable network device designed specifically to connect Biamp conferencing products together. The TesiraCONNECT is placed at the center of any Biamp conference room to provide power and media streaming for Biamp components. TesiraCONNECT works out of the box with Biamp products, simplifying conference room deployments. TesiraCONNECT also connects multiple AVB-enabled Biamp products within a system. Supported topologies include the connection of up to four TesiraCONNECT devices in a single media network cluster.
While TesiraCONNECT provides most of the same features and functions as an AVB network switch, Biamp prefers to avoid calling it a network switch. We do this to reinforce that TesiraCONNECT is only intended to be used with Biamp products, and has only been tested with Biamp products. Additionally, TesiraCONNECT is a simple plug-and-play device with no setup required, in contrast with most other AVB switches that have countless configuration options and require extensive setup to work correctly.
Capabilities and limits
TesiraCONNECT is a Tesira infrastructure device that runs Tesira Firmware 3.12 and later. All configuration, firmware updates, and fault monitoring are provided via Tesira Software and Biamp SageVue. TesiraCONNECT is primarily intended for use with Tesira devices.
5-ports with 100/1000M Ethernet
All 5 ports are AVB enabled with support for up to 150 AVB streams
4 ports provide PoE+ Class 4 with 120W budget
RSTP (rapid spanning tree) Support
Supported topology is up to 4 TesiraCONNECT devices in a single media network cluster
Standard Ethernet distance limits using Cat 5e UTP or better
Universal external power supply
Only Biamp conferencing equipment is supported
In larger topologies, including systems with TesiraLUX video streaming, third-party AVB devices, and other mixed AV-protocol networks, we require the use of Avnu-certified interoperable switches. Please see the List of AVB-capable Ethernet switches for further information.
Installation
TesiraCONNECT may be mounted under table with the optional mounting bracket, behind a display, in a credenza, a plenum space, or anywhere that it is convenient to accommodate a room design.
TesiraCONNECT TC-5 uses a fanless design and is passively cooled. Ensure adequate airflow around the device and that the ambient temperature remains between 0°C to 40°C. Excessive ambient air temperature or blocked airflow may result in overheating. TesiraCONNECT will provide fault alerts if over temperature.
Connection
Up to four TesiraCONNECT TC-5 devices can be used within a single media network cluster. The devices may be in a star or chain topology. The TesiraCONNECT is intended to connect to the AVB port of a DSP and provide connectivity for expander devices in a room. Tesira supported network topologies must be observed.
All 5 ports of the TC-5 are AVB enabled. Ports 2-5 provide PoE+ power. The DSP should be connected to Port 1. Any powered expander devices, additional server-class devices, or additional TC-5 devices should be connected to ports 2-5.
The following diagram shows a chain topology connection.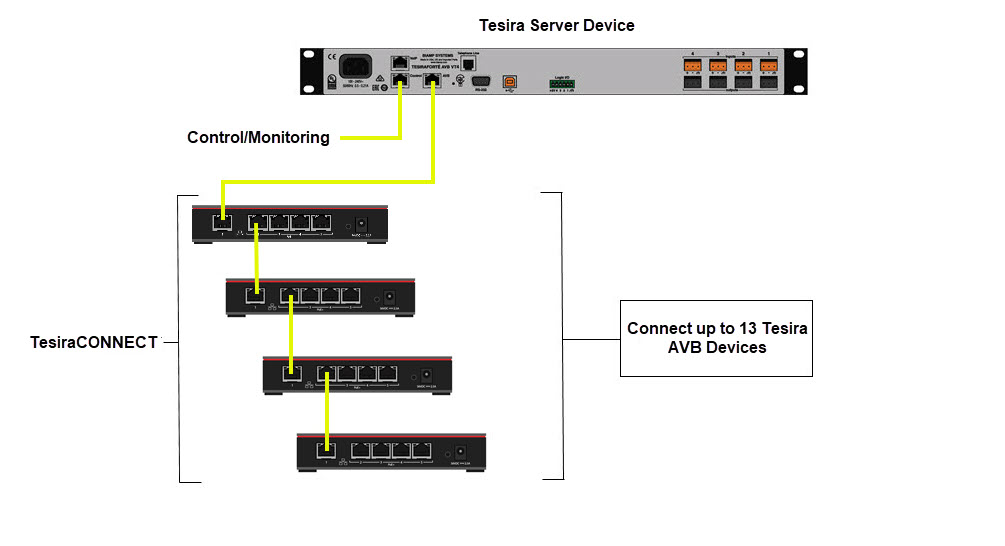 The following diagram shows an example star topology connection: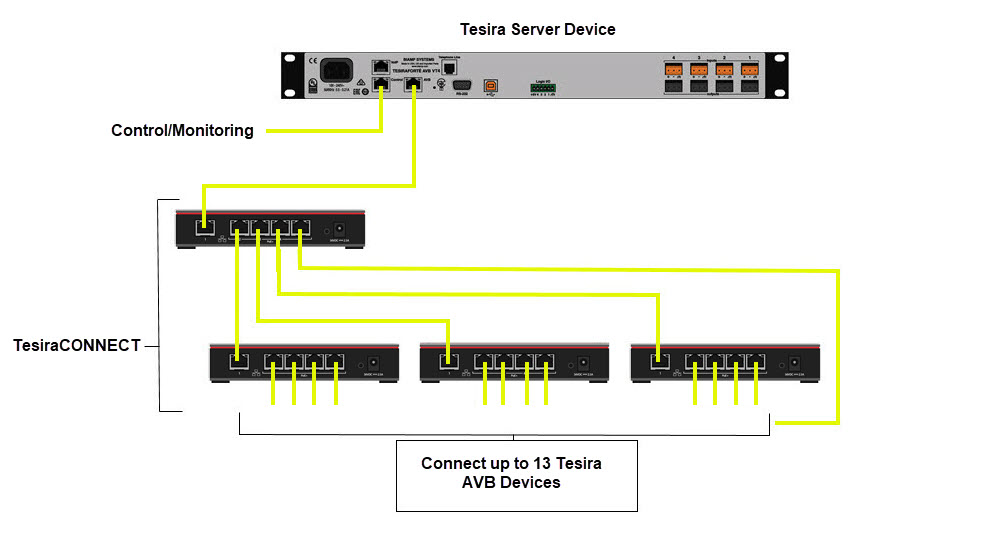 Single network connection
Tesira devices support converging control and AVB media on to a single network cable. Multiple DSPs may be connected to a TesiraCONNECT using single cable mode. Single network connection supported topologies must be followed. The TesiraCONNECT would need to be directly attached to a control computer or uplinked to a control network when using single network connection on the DSPs, to allow a computer to connect to the system via Tesira software. TesiraCONNECT does not support mixing separated and single cable connections within the same system, and it does not provide router functions between isolated control and media networks.
Setup
Under most use cases, the TesiraCONNECT TC-5 requires no configuration out of the box to power Biamp conferencing equipment. TesiraCONNECT does not compile into in a system configuration and does not require any Equipment Table assignment. It does not count against Tesira system device limits or expander proxy limits. Like any Tesira device, all configuration of TesiraCONNECT is managed via Tesira software and Biamp SageVue software.
Status LEDs and fault reporting
Status LEDs
The following states are represented on the front panel LEDs of the TesiraCONNECT device.
| LED | Off | Green | Flashing Green | Yellow | Red | Alternating Red/Yellow |
| --- | --- | --- | --- | --- | --- | --- |
| Alarm | No alarm condition present | Not Applicable | Unit is in Locate mode | Unit has minor alarm condition present | Unit has major alarm condition present | Unit has minor and major alarm condition present |
| Per-Port LED | No Ethernet link | Ethernet link active/up | Unit is in Locate mode | Not Applicable | Not Applicable | Not Applicable |
| Power | No power supplied | Device is powered | Unit is in Locate mode | Unit is booting | Not Applicable | Not Applicable |
| RJ-45 Ports | No Ethernet link | Ethernet link active/up | Data activity | Not Applicable | Not Applicable | Not Applicable |
| Status | No power supplied | Unit is fully booted and ready | Unit is in Locate mode | Unit is booting | Not Applicable | Not Applicable |
Faults
The following major and minor faults are reported by TesiraCONNECT.
| Alarm Level | Fault Message | Comment |
| --- | --- | --- |
| None | N/A | Normal operation. |
| Minor | Over temperature warning | CPU has exceeded 75 °C. Ensure ambient is under 40 °C and adequate ventilation around device. |
| Major | PoE+ fault on port #, Over current limit | May indicate issue with network cabling or powered end-point device. |
| Major | AVB bandwidth exceeded | Stream reservation limit exceeded, check uplink bandwidth. |
| Major | Over temperature fault | CPU has exceeded 81 °C. Device operation is unstable past 85 °C. |
The front panel provides a fault LED. Tesira Software and Biamp SageVue will report fault messages. Additionally, any Tesira server-class device will report a fault if a discovered TesiraCONNECT device has an alarm. The DSP will report "Infrastructure device <hostname> fault detected".
Topology examples
Example of a single room system:
Example of a room using multiple TesiraCONNECT TC-5 devices and several expanders:
Example of two Tesira systems sharing a single TesiraCONNECT TC-5:
Mounting options
TesiraCONNECT can be stacked, up to 3 high, with other TC-5. It is also designed to be mounted in any orientation with the optional TC-5 Mounting Bracket Kit. Manuals for installation can be found on our Tesira manuals downloads page.
Further reading