Vidi 250 overview
Last updated
The Vidi 250 satellite camera is designed as a high quality solution for huddle or small to medium conferencing rooms. It includes USB-C connectivity with 4K30 image processing and dual mic element sound. It features a 12MP image sensor, wide angle lens, auto framing, presets, and beamforming microphones.
The Vidi 250 can be plugged directly into a UC System with a single USB connection or can be paired with a Devio SCR-10 or Modena Hub for a BYOD system.
This article will highlight and explain some of the technologies in the Vidi 250 and how the integrate into the room environment.
Camera features
The Vidi 250 is designed around a 12MP image sensor for a 4K, 120° field of view. It is great fit for huddle spaces, or small to medium conference room design applications. The Vidi 250 incorporates Biamp Video Intelligence technology into its onboard DSP to provide a strong features that optimize camera performance to the far side participants. Below is a list of the features included in the Vidi 250 remote camera.
LED indications for camera activity
4K, wide angle 120° field of view
Finished image 1080P30 for UC Client
Electric Pan/Tilt/Zoom with 5x zoom
Auto framing technology to keep participants in frame
Preset Recall
Biamp Camera Control application for PC/MAC control and updates
Camera mounting orientation controls are available via the camera control app to flip the image for below display mounting applications.
Microphones
The Vidi 250 remote camera includes an onboard beamforming microphone array that allows for it to be used as a stand alone microphone for smaller room systems not using full Parlé soundbar, or beamtracking microphone systems. This shares the same microphone elements that are used in al the Parlé product line for superior performance.
The Vidi 250 does not incorporate onboard DSP that provides any of the beamtracking, AEC, or noise reduction features of the full Parlé series microphone and soundbar products. In a smaller room environment the Vidi 250 can be connected as an audio and camera device to a BYOC or UC client and then use the AEC and Noise reduction provided by the UC application.
In rooms where a larger integrated microphone system is in use, the Vidi 250 can be selected as the camera device for the application or PC while selecting a different microphone source. This will disable the onboard microphone array, and allow for the larger integrated microphones to be used for the room.
There is no mic mute status LED indicator on the Vidi 250.
Connectivity
The Vidi 250 uses a USB-C type for device connectivity and power from UC client, USB hub, or PC. A provided 2m length right angle connector USB-C to USB A cable is provided with camera. The USB-C connection allows for right angle connection to be reversed to fit both above or below display installations.
No formal testing with USB extenders has been done prior to first product shipment. It is recommended to connect to local UC client or install using a professional USB hub device like the Devio SCR-10 at display location with extension of USB signal from hub to remote location if required. Vidi 250 max power rated at 2 mA.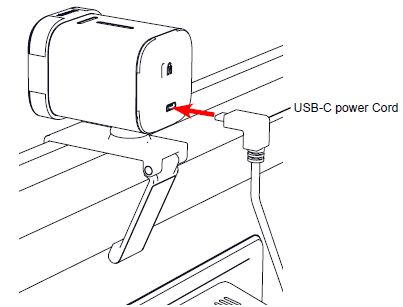 A Kensington lock socket is provided on the camera rear for device security using standard keyed or combination locking.
LED indicators
The Vidi 250 includes a camera privacy LED on the front with white status indication tied to camera active state. There is no microphone mute state indicator on the Vidi 250. Mic mute status will be available via the UC client application.
Mounting and accessories
The Vidi 250 ships with the display top mount attached. An under display mounting plate is also included in the box with camera. The under display mount can be adhered to the display and camera is then snapped into the plate clips. There are also optional mounts available for wall or side mounting applications. These additional mounts can be purchased separately to fit the design application. The threaded camera base uses industry standard thread size to allow for adapting to other mounts available for specific installation needs. The Vidi 250 also ships with a lens cap to protect camera during mounting, or when not in use.
Display Top Mount hardware ships attached to the Vidi 250 and provides flexible display or monitor installation
The Under Display Mount is included in the box to allow for under display mounting. Camera control application allows for the image to be flipped digitally when mounting under display.
The VMA 200-WM may be purchased as a separate accessory to allow direct wall installation.
The VMA 200-DM may be purchased separately to allow for display side mounting with provided adhesive backing.
Adhesive mounting note: Clean the mounting surface of any oil, dust or grease prior to adhering the bracket. Attach the bracket and apply pressure to the adhesive areas for about 30 seconds. It takes approximately 24 hours for the joint to reach about 90% of the maximum bond strength.If feasible, delay mounting the camera until the next day.
Currently the remote control software application is the only method of camera control.
Biamp camera controller software
Biamp provides a camera management application that installs on PC or Mac for control and updates for the Vidi 250, VBC 2500, and ACB 2500 conferencing bars. The control software is available to download from the link below or the Biamp website. This software allows for additional camera features and management available to the room.
Software Features
Preset saving and recall
Manual zoom and panning (ePTZ)
Participant autoframing
Image mirroring
Image flip for under display mounting
Backlight compensation
50hz/60Hz setting
Max zoom limits
UC profile selection (Vidi 250 support in future FW release)
Microphone on/off (compatible with Vidi250 only)
In addition to the camera control features, the Biamp Camera Controller software is used for firmware updates to the hardware. These firmware updates will be made available for download, then can updates can be initiated via the camera software application settings page.
Note: Biamp camera preview only available while Vidi 250 is not being used by the UC client. Setting changes may be made in camera application while in an active call via the camera control application without preview. If camera preview is desired, it is recommended to make changes in camera controller before starting UC application.
USB Extension
The USB extension devices listed below have been tested with the Vidi 250 cameras.
Mfg
Model
Intended Use
USB Version(s)
Date Tested
Compatible

Icron

Icron USB 3-2-1 Starling 3251C-10-PL

10m USB Extension

Custom Cable Included

USB 3.2: up to 5Gbps
USB 2.0: up to 480Mbps
USB 1.1: up to 12Mbps

9/28/22

Yes

Requires Icron 5V DC power supply connected to host extender (not included).

Icron

Icron USB 3-2-1 Raven 3104 Pro
4-Port USB 3.2, 100m CAT 6a/7 Point-to-Point Extender System

4-port USB 3.2, 100m CAT 6a/7 Extender System

USB 3.2: up to 5Gbps
USB 2.0: up to 480Mbps
USB 1.1: up to 12Mbps

9/28/22

Yes

Icron

CAT 5e/6/7 extension system

9/28/22

Yes

Device extender using included power supply; host extender does not have a power supply

Kanex
EXT-USB16FT
USB Active Cable (16')
7/20/22
YES
Kanex
EXT-USB32FT
USB Active Cable (32')
7/20/22
YES
Tripplite
U330-10M-1
USB Active Cable (33')
7/20/22
YES
Binary
B-USB3-EXTAAP-15
USB Active (49.2') 15M
7/20/22
YES

TechLogix Networx

USB-C - USB 3.1 with backwards support

5/5/23

YES

Direct connection tested Vidi250 to PC (Windows 10/11)
Further testing in progress with Mac/ Biamp USB200, Devio

TechLogix Networx

USB 3.2 (SuperSpeed 10G)
USB 2.0 (high-speed)

5/5/23

YES

Direct connection tested Vidi250 to PC (Windows 10/11)
Further testing in progress with Mac/ Biamp USB200, Devio