Multistory Office Building Phase 1 (Sound Masking and Paging)
Last updated
This system design template shows how Vocia products can be easily integrated with Dynasound Pro Network Sound Masking Systems to create a simple multi-zone paging system. Vocia is a highly reliable solution that provides scalable, flexible and excellent audio quality while managing all your paging and background music requirements. Used in conjunction with a Dynasound Pro Network Sound Masking solution results in a consistent, comfortable, flexible to the speaker level and even distribution of both ambient sound and paging throughout the space.
Take the example of a multistory office building that is transitioning or adding a sound masking and paging system, with the installation taking place over multiple phases. This upgrade will transition from a basic multi-zoned paging system through integrating the building's existing VoIP network to support paging and adding background music to selected areas. This article details the requirements for phase 1: the sound masking system with a relatively simple paging system. In Phase 2, We will add more paging zones and integrate the building's existing VoIP network to support paging from any phone as well as pre-recorded message capabilities. Later, Phase 3 will add background music and remote control to each zone.
System design
Sound masking and paging system functionality scope:
4 Sound Masking Zones to accommodate

Open office spaces
Private offices
Corridors
Common areas and lunch room

1 Paging Station to provide live paging from the reception area
3 Paging Zones capable of receiving the same, or unique pages
Equipment list
Below is the list of Biamp Vocia and Dynasound Pro Network equipment used in this project:
1 - DS-10: 10-button desktop paging station
1 - VO-4: 4-channel analog output
1 - DS3008: paging and music Interface
DSPoE24 as needed: PoE network switch

EachDSPoE24 can feed up to 16 DS8000
Up to 6 switch hops between any two DS Pro devices

DS8000 as needed: loudspeaker controller

Each DS8000 can provide loudspeaker signal to up to 8 sound masking loudspeakers
Maximum 512

Sound masking loudspeakers as needed to cover all different Sound Masking Zones. Options:

DS1320: direct field emitter
DS1356: Plenum speaker
DS1398: Shallow Plenum speaker (Only used for sound masking signals, not suitable for paging)
Notes:
When using DS8000's in conjunction with DS1320 emitters, each DS8000 must be software configured for use with DS1320 loudspeaker types only.
Optional Qt Active Emitter mounting accessories and black emitter color are also available for DS1320.
Other non-Biamp equipment is required, including the CobraNet PoE network switch.
Example files
The example file for this system design template is set with 3 Paging Zones: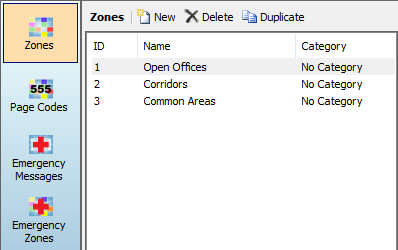 Paging zone 1 - Open Offices
Paging zone 2 - Corridors
Paging zone 3 - Common Areas and Lunch Room
Four page codes have been provided to allow for flexible paging throughout the zones.
As each DS-10 has 10 buttons, we will utilize Button Based Assignment for the page codes:
Page Code 1 - Supports live paging to open office spaces
Page Code 2 - Supports live paging to corridors
Page Code 3 - Supports live paging to common areas and the lunch room
Page Code 4 - Supports live paging to all zones at a higher priority
*For more information about paging priority, see the Priority Levels section of the Vocia help document.
File Download: Multistory Office Building Phase 1 (Sound Masking+Paging)
Networking details
Vocia supports two modes of network communication depending on the network topology. One requires a direct connection to a CobraNet network while the other requires an IP-based connection to the MS-1e Message Server to access the system. Since this system does not include an MS-1e, the first method will be used. The system is also small enough that an isolated network with PoE will suffice for CobraNet communication and audio transport between Vocia devices.
Dynasound Pro Network also uses CobraNet communication between the DS3008 and the DS8000 devices. These systems operate on an isolated network using the DSPoE24 to supply power and CobraNet transport to all DS8000 units
Setup Requirements:
Network switch with sufficient ports for CobraNet connections
802.3af (Class 2) PoE Injector for powering the DS-10 paging station (unless the CobraNet switch provides PoE).
802.3af (Class 3) PoE Injectors for powering the VO-4s analog outputs (unless the CobraNet switch provides PoE).
DSPoE24 Network Switch for powering DS8000s loudspeaker controllers
Note:
Since both Vocia and Dynasound Pro Network utilize CobraNet, it's possible to use a single, isolated network for this application. Doing this requires proper network topology design, PoE budget calculation for every switch on the network and proper Vocia setup. For more information refer to Using a single CobraNet network with Vocia and Dynasound Pro Network
System setup
Both the outputs of the VO-4 and the input of the DS3008 are set, by default, to +4dBu. All Vocia devices are set to unity gain. The following adjustments need to be made in the DS3008 and DS8000 to calibrate both Sound Masking Signal and Paging Signal. All the adjustments in the DS Pro Network System are done from the Dynasound Privacy Manager Software
Set audio inputs 1~3 levels in the DS3008 to 0dB (unity)
Set each DS8000 network audio input level to 0dB as required for the loudspeakers connected to the DS8000

Channel 1 corresponds to Paging Zone 1
Channel 2 corresponds to Paging Zone 2
Etc.

Set each DS8000 audio input level control for the desired Paging Zone for each loudspeaker

Up to one audio channel should be set per loudspeaker

Set each DS8000 masking level control for the desired sound masking generator and level for each loudspeaker
Check and confirm adequate DS-10 microphone input level from the Audio & Live Control tab found under DS-10 properties
If needed, paging output for all Sound Masking Zones in the Paging Zone can be adjusted from the Audio & Live Control tab found in the corresponding VO-4 properties. If changes are needed on a particular Sound Masking Zone or loudspeaker, adjustments can be made in the corresponding DS8000