Configuring Audio-Technica Dante microphones
Last updated
Tesira servers support native integration with Dante-enabled microphones manufactured by Audio-Technica. Specifically, the Audio-Technica ATND971 (boundary microphone), ATND8677 (microphone desk stand) and ATND8734 (ceiling plate module) are supported. The microphones are powered by PoE and transmit audio and control data over a Dante network.
A Tesira SERVER or SERVER-IO with a DAN-1 (Dante) card is required for use with these microphones. Similarly, TesiraFORTE DAN models can be used with these Dante-enabled microphones. Tesira software includes a specific input block (Dante Mic block) for this application, which includes several options for logic control of muting and LED functionality, as well as the ability to identify each microphone by flashing its LED.
This article describes the software interface for configuring and controlling these Dante microphones, as well as some example configurations for common scenarios.
Dante Mic input block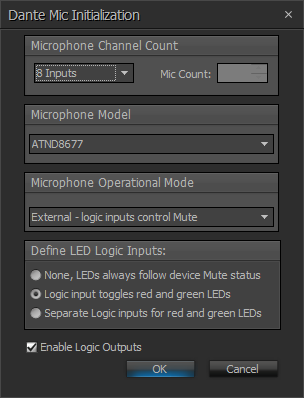 As of Tesira version 2.3, Tesira software includes a Dante Mic input block. This block not only passes the audio signals from the Audio-Technica ATND971 or ATND8677 microphones, but also manages the muting, logic, and LED functionality of the microphones.
Initialization dialog
When inserting a new Dante Mic input block, the following options are available:
Microphone Channel Count - choose how many channels this block will represent
Microphone Model - choose the model of microphones being used
Microphone Operational Mode - choose how the mute switch on the microphone will behave:

Initially set to Mute, button press sets to Talk - each button push toggles the mute state, initially muted on power up
Initially set to Talk, button press sets to Mute - each button push toggles the mute state, initially unmuted on power up
Mute unless button is being pressed - mute button is momentary, also known as push-to-talk
Talk unless button is being pressed - mute button is momentary, also known as push-to-mute
External - logic inputs control Mute - mute button does not automatically mute/unmute microphone, muting must be manually triggered with logic signals

Define LED Logic Inputs - choose how the microphone LEDs are controlled:

None, LEDs always follow device Mute status - LEDs always represent the mute state of the microphone, red for muted, green for unmuted, no logic inputs available for controlling LEDs
Logic input toggles red and green LEDs - a single logic input allows control of the LED, logic high makes it green, logic low makes it red. Logic inputs for LED control are labeled RG1, RG2, etc.
Separate Logic inputs for red and green LEDs - two logic inputs per microphone, allowing independent control of red and green LEDs. Logic high turns the LED on, logic low turns it off. This is the only mode where it is possible to turn both LEDs off, or to turn both LEDs on (which results in a yellowish LED).

Enable Logic Outputs - choose whether logic outputs are provided on the bottom of the block. If enabled, one logic output per channel will be available. If the Microphone Operational Mode is set to "External", the logic output will correspond to the physical push button on the mic base (logic high when the button is pressed, logic low when it is released). In all other Microphone Operational Modes, the logic output will follow the mute state of the microphone (logic high when muted, logic low when unmuted).
Control dialog
The control dialog of the Dante Mic block allows for typical microphone input functions as well as some special functions that are exclusive to the Dante mics:
Peak - indicates when input signal is within 3dB of clipping
MicMute - indicates when the microphone is locally muted
Gain - allows selection of input gain level for the microphone
Low Cut - adds a highpass filter at 80Hz on the microphone signal
Phantom Power - only available on the ATND8677, turns on 12VDC phantom power to the attached microphone
Mute - mutes the microphone signal. This mute is independent of the microphone's local mute function.
Level - digital level control of the microphone signal
Invert - inverts the phase of the microphone signal
Device Name - shows the hostname of the Dante transmitter device
Channel Name - shows the name assigned to this channel, can be changed via the Property Sheet of the input block, or from Dante Controller software
Locate - when activated, the LEDs on the microphone will flash to allow for easy identification of the microphone
Dante Controller software
Dante Controller software is required to route the microphones to the Tesira system. It can be downloaded from http://www.audinate.com. Further information can be found on the Audinate website under Support > Documentation > User Guides.
Each DAN-1 card will accept up to 32 channels of AT mics. The AT mics will populate channels 33-64 in the Tesira DAN-1 within Dante Controller. This is constrained by the available data channels for the logic and control feedback for the mics. Generic Dante input blocks can be utilised alongside the AT mic blocks for a total of 64 channels of Dante input per card.
The "Device Name" field in a Dante Mic input block will display "<disconnected>" until a valid Dante microphone has been routed to that input via Dante Controller software.
Advanced configurations
Often, configuring the microphones in one of the simple muting modes is sufficient. However, there are some cases where more customized behavior is desired. Below are some examples of common advanced techniques to use these microphones in real situations. All of these examples utilize the Dante Mic block in "External" mode, which allows the mute state to be controlled via logic. This is typically required for customized applications, whereas the other modes are for simpler applications.