Netgear M4250 - Enabling AVB using the main user interface
Last updated
This article describes how to activate and enable AVB on the Netgear M4250 switch through the Main User Interface.
Activate the AVB license
NOTE: The preferred method for activating the AVB license is through the AV UI. Please refer to Enabling AVB Using the AV User Interface for additional information.
https://kb.netgear.com/19239/How-to-Activate-Software-Licenses-with-NETGEAR-Managed-Smart-Switches
After logging into the Main UI, go to System->License->License Key to check the status of the license. If the license is applied, you will see License applied under the License Status field as shown below:
Check License Features and verify that MRP, MMRP, MVRP, MSRP, and DOT1AS are all Enabled. This indicates that the proper license is installed to function with AVB.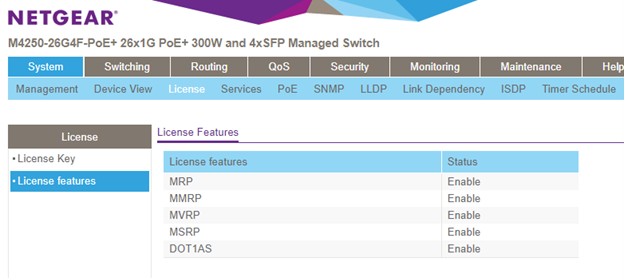 If the license is not activated, you will need to obtain the proper license key file from Netgear. Contact Netgear support for assistance in obtaining the license. Once the file has been acquired, you can upload the key file as follows:
1. Go to Maintenance -> Upgrade.
2. Select HTTP File Upgrade.
3. Select License Key as the File Type.
4. Click the Browse button and navigate to the license key file.
5. Navigate to the location of the file, select it, and click Open.
6. Then click Apply from the Main UI to apply the license file.

7. Verify that the license is activated by referencing the previous procedure.
Enable AVB
1. Go to Switching->MRP.
2. Configure as shown here:
3. Click Apply then click OK on the Alert window that appears.
4. Select Advanced->MRP Port Settings.
5. Enable MVRP Mode, MMRP Mode, MSRP Mode on all ports that will have AVB devices connected and click Apply.
6. Go to Switching->802.1AS->802.1AS Configuration.
7. Enable 802.1AS Status and click Apply. Select OK on the alert window that appears.
(It is worth noting that the Best Clock Identity will likely be an endpoint MAC. Netgear has chosen the Local Clock Piority1 of 255 which means any Tesira 802.1AS endpoint will be elected for Best Clock Identity.)
8. Select Advanced->802.1AS Port Settings.
9. Enable Admin Mode on all ports that will have AVB devices connected and click Apply.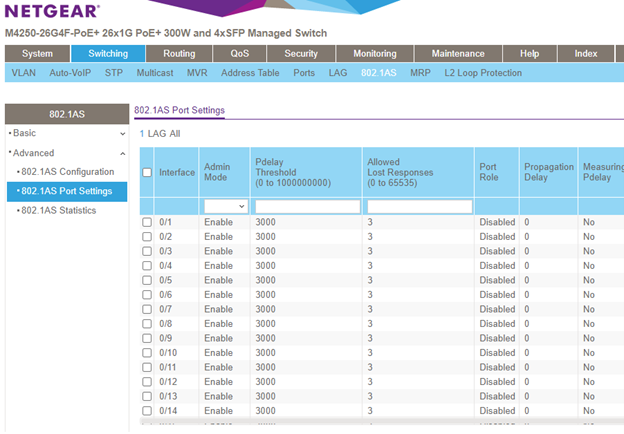 10. Go to Switching->Ports->Port Configuration.
11. Change Frame Size to 1500 for ports that will have AVB devices connected and click Apply.
12. Go to QoS, select trust dot1p in Global Trust Mode then click Apply.
13. Click the save icon to save the configuration.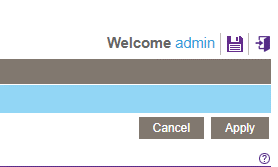 Netgear M4250 MRP timers
Please follow this article showing how to set the MRP timers to suite AVB endpoints: Netgear M4250 MRP timers
Further reading